The NBA revealed the starters for the 2023 All-Star game on Thursday. In the West, LeBron James—also a team captain for the draft—headlines a group also featuring two-time MVP Nikola Jokic, Zion Williamson, Stephen Curry and Luka Dončić. In the East, Giannis Antetokounmpo will be a captain, and he's joined by Kevin Durant, Jayson Tatum, Donovan Mitchell and Kyrie Irving. Here are three thoughts on the starting group.
Domantas Sabonis and Joel Embiid were snubbed
There were significant snubs in each conference. In the West, Williamson surprisingly gets the nod over Sabonis. Zion's counting stats are insane. He's played at an All-Star level for sure. The problem is he hasn't played very much. Sabonis has appeared in 16 more games than Williamson, and while his stats may not be as gaudy, he's impacted winning just as much. (For good measure, Sabonis is even playing through injury, barely missing any time despite a broken right thumb.) We'll all love seeing Williamson in the game. And he probably deserved to make it as a reserve. Sabonis, with his durability and overall offensive impact, felt like the better choice to start.
In the East, Embiid has to be wondering why he's been left out of the starting five. There were four players very deserving of the three frontcourt spots, and Embiid was the odd man out. But he seems like a better choice than Giannis. Both are elite defensively. And this season, Embiid has been scoring more and with better efficiency than Antetokounmpo. In an ideal world, the NBA would let people pick the five best players as opposed to the positional restrictions. In the current setup though, Embiid seems to have a stronger case to start than Giannis. I don't envy the people officially making these decisions, though.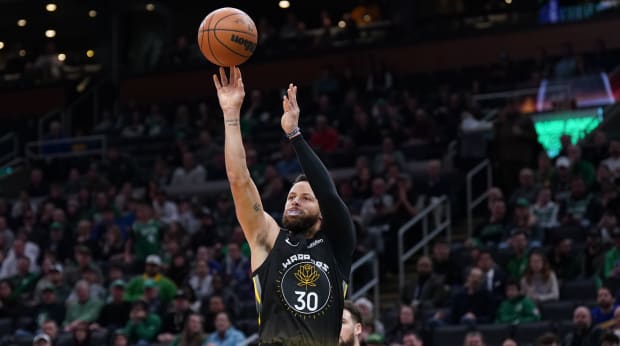 Stephen Curry edges out Ja and Shai
Outside of the East frontcourt, the most intriguing battle was at guard in the West. Luka seemed like a lock for one of the starting positions. That left a three-way battle between Curry, Ja Morant, and Shai Gilgeous-Alexander for the other starting spot. Curry was my pick, and he is absolutely a worthy starter. He's been playing at a level eerily close to his 2016 unanimous MVP campaign. If anything, the Warriors' struggles are a reflection of their baffling front office, which for some reason won't fully commit to going all-in around Curry. Morant and SGA will have their chances to rack up starting spots over the course of their careers. For now, let Steph's selection be a reminder he has not fallen off in the slightest bit. The Warriors very much still have one of the game's megasuperduperelite players on their roster. Hopefully they act on it!
The Kyrie complication
Kyrie Irving earning a starting spot throws a little bit of a wrench into the East. Jalen Brunson, Trae Young, Jaylen Brown and Tyrese Haliburton are probably more deserving as All-Stars, and the latter two especially as starters. Irving's numbers are pretty solid, but then there's also the fact he was suspended by his own team for using his massive platform to share a link to an antisemitic film. Obviously Irving is still popular with a large number of fans. It's just not a great look for the NBA to have him serve as an ambassador for the game given the controversies Irving has inflicted on himself the last couple years. Irving's popularity may also be outshining his effectiveness in relation to other players in the East. As an All-Star, he's not an egregious choice based purely on what's happening on the court. Given the totality of the Kyrie Irving experience, as well as what other players have accomplished, there were better options for the starting five.