GlobeNewswire
Myriad Genetics Celebrates One Million SneakPeek® Results Shared with Expectant Parents
News provided by
Myriad Genetics, Inc.
Nov 20, 2023, 4:05 PM ET
SALT LAKE CITY, Nov. 20, 2023 (GLOBE NEWSWIRE) -- Myriad Genetics, Inc., (NASDAQ: MYGN), a leader in genetic testing and precision medicine, today announced it has delivered results to one million consumers with its SneakPeek® Early Gender DNA Test. Since 2015, SneakPeek has been providing expectant families with an easy and convenient way to learn the sex of their baby as early as six weeks into pregnancy.

SneakPeek is 99% accurate1 and is one of the earliest ways to learn the baby's predicted fetal sex. Customers can choose to take the test at home or have their blood collected at a local clinic. The at-home test kit includes the innovative SneakPeek Snap® device, which is placed on the user's upper arm and a button is pressed to collect the blood sample. Samples are mailed to the SneakPeek laboratory and test results are shared as early as the same day the sample is received through email.
"When my wife and I were expecting our first baby, we were curious to learn whether we were having a boy or a girl. As a bioengineer who had helped develop other prenatal tests, it got me thinking that there had to be a way to make fetal sex prediction simple, affordable and more accessible so people could do the test in the comfort of their own home," said Chris Jacob, senior vice president and general manager, Myriad Genetics. "From there, SneakPeek was born and since then we have served one million expectant parents, allowing them to easily experience that magical moment of learning the sex of their baby for the first time."
In 2022, Myriad acquired Gateway Genomics, a personal genomics company and the developer of SneakPeek. With the addition of SneakPeek to the Myriad Genetics portfolio, the company offers a comprehensive suite of reproductive health testing solutions before, during and after pregnancy, which also includes the Prequel® Noninvasive Prenatal Screen, Foresight® Carrier Screen and MyRisk® Hereditary Cancer Test with RiskScore®.
"This momentous occasion represents an exciting step forward in expanding access to fetal sex testing at six weeks," said Melissa Gonzales, president of women's health, Myriad Genetics. "Earlier this year, we also celebrated one million patients being screened with Prequel. The combined synergies from our products are providing more patients with relevant information in a way that is equitable, affordable and easy to use."
1 See www.sneakpeektest.com/publications for supporting scientific studies
About Myriad Genetics
Myriad Genetics is a leading genetic testing and precision medicine company dedicated to advancing health and well-being for all. Myriad develops and offers genetic tests that help assess the risk of developing disease or disease progression and guide treatment decisions across medical specialties where genetic insights can significantly improve patient care and lower healthcare costs. For more information, visit www.myriad.com.  
Safe Harbor Statement
This press release contains "forward-looking statements" within the meaning of the Private Securities Litigation Reform Act of 1995, including statements relating to expanding access to fetal sex testing. These "forward-looking statements" are management's expectations of future events as of the date hereof and are subject to known and unknown risks and uncertainties that could cause actual results, conditions, and events to differ materially and adversely from those anticipated. Such factors include those risks described in the company's filings with the U.S. Securities and Exchange Commission, including the company's Annual Report on Form 10-K filed on February 25, 2022, as well as any updates to those risk factors filed from time to time in the company's Quarterly Reports on Form 10-Q or Current Reports on Form 8-K. Myriad is not under any obligation, and it expressly disclaims any obligation, to update or alter any forward-looking statements, whether as a result of new information, future events or otherwise except as required by law.
| | |
| --- | --- |
| Media Contact: | Investor Contact: |
| Glenn Farrell | Matt Scalo |
| (801) 584-1153 | (801) 584-3532 |
| PR@myriad.com | IR@myriad.com |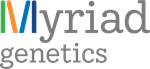 NOTE: This content is not written by or endorsed by "WKRN", its advertisers, or Nexstar Media Inc.
For inquiries or corrections to Press Releases, please reach out to GlobeNewswire.